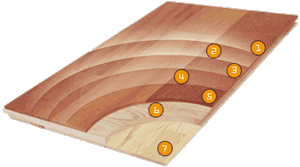 Click Engineered
Christina Meyer Wood Flooring can supply engineered floors to suit a range of budgets. All our floors as have been produced according to the highest environmental standards, as certified by the Forest Stewardship Council.

Engineered floors are constructed from several wood layers that are glued together. The visible surface is a hardwood top layer which is glued onto one or more layers of softer wood.

One of the key advantages of engineered floors is that the wood layers can be constructed in a cross-ply formation so that the grains run at right angles to each other. This minimises the expansion and contraction of the wood with changes in heat and humidity, and thus keeps the floor stable and level.

Engineered wood floors are designed to "float" rather than be glued or nailed down. The planks fit together with a tongue and groove system, either using glue or simply clicking together.

Engineered floors can be used with underfloor heating where circumstances and manufacturers' specifications allow.