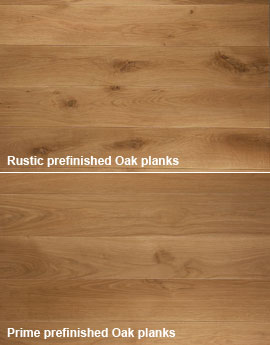 Oak Oiled Planks - Prefinished
A stunning FSC oak floor finished in our own eco-friendly hardwax oil. These are wide and long boards ranging from 120, 140, 160 to 180mm in width and 600 to 2000mm in length. All these boards are 20mm with a tongue and groove on all 4 sides and micro bevelled. The floors are packed in 2 metre length boxes.

Prefinished floors are ready to install and do not require sanding or varnishing/oiling. Our prefinished floors save on installation time and keep mess and inconvenience to a minimum. Because these floors are oiled and sanded in the factory 3 to fine level they have a smooth silk like texture.
There are two grades rustic and prime. Rustic has a natural wood appearance with variation of colour and knots of various sizes up to 50mm. No open knots.

Prime has less variation in colour, no sapwood, and small knots closed knots of the same colour as the wood.